January 23, 2022

2021 a great year!
2016 has been a great year for Salvator´s ladder system. Briefly we have a new four year contract with the Swedish army, new users at tactical teams at the Swedish police, the anti terrorist police in Poland and some special military units at the polish army. Since before tactical police units in in Finland, Sweden and Netherlands are using our ladder system.
We also have new agents in USA, Germany, Hong Kong, Switzerland, Belgium and France and our latest package with ladders did go to Easttimor yesterday.

December 23, 2015

Bus assault platform

Salvator together with Swedish and Polish Special Police has designed and developed a single ladder, stable, non-skid bus assault platform for tubular assaults and first-floor level targets like windows and buses.

This kit is available either as a stand-alone bus assault platform or as an add-on to the standard full-length ladder, also additional ladder sections can be added to create a full-length ladder with a usable platform at the top.

The bus assault platform is extremely lightweight and has a weight of just 2,5 kg and the horizontal rubber surface material provides excellent traction and stability when placed against a vertical surface.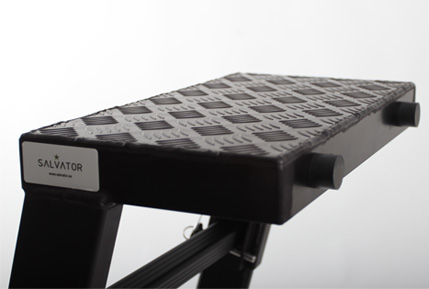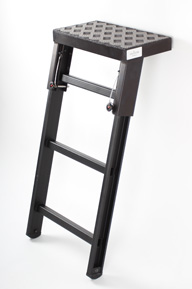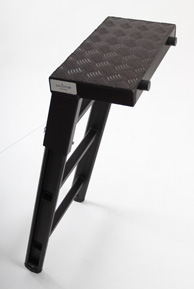 October 13, 2015

Together with Schron Defence, Salvator has won a public procurement in Poland and soon the Special Police in Warsaw have some proper ladders.

Schron Defence is now also our new agent in Poland.

Click
here,
to find out more.

May 03, 2014
New partnerships
Salvator has started collaboration with Range Systems, Oppfor Solutions, Lennartsfors Mekaniska and Svea Diesel and can now offer a variety of new products in Sweden and Scandinavia.
Click
here,
to find out more.
April 08, 2013
Salvator has partnered with Providence in Holland who now marketing our Laddersystem and Vizsim in Europe.
Click here
to take a look at their webpage.
Feb 24, 2014
Two new products!
From januari 2014 have Salvator the Sim-AT mine and the MRT/Canaxa target in their sortiment. The sim-AT mine/IED with different fuzes (full-width magnetic e.g.) Can be used stand alone with a small Fx, or in larger EXCON systems sending with radio. The MR-target is an updated version of the old Canaxa, now with e.g. a new fast engine and some easy smart features on the panel. Still very easy to handle, both for your stamina and brain.
Sep 25, 2012
Salvator has delivered the first two Vizsim Field system to UOTS at the Army Combat School and the Life Gaurd regiment in stockholm.
A total of six systems Comes in september. The system who is a standalone is suitable for group and platoon for live fire exercise and exercises with blank ammunition. The special effect systems have a variety of combat effects to be simulated with sound, light and smoke and is battery powered and controlled by a handcontroller.
April 16, 2012
The Swedish Armed Forces are now equipped with the Salvator ladder system.
The M designation on each part: M6129-655010 (ladder), M6829-655019 (sleeve) M8408-101010 side connecter.
Oct 12, 2011
The Swedish Defence Materiel Administration has purchased Salvator's ladder system.
The Swedish Materiel Administration has purchased several sets of Salvator's ladder system for use in FIBUA. The first users in the Swedish Armed Forces will be LG (the Swedish Life Guards Regiment) and MSS (the Swedish Army combat school).
Jun 22, 2011
New ladders for the Swedish Life Guards Regiment in Kungsängen
Salvator has received an order from the Swedish Life Guards Regiment for the new platoon kit containing 4 ladders, sleeves and side connectors. Meanwhile, the SP Technical Research Institute in Gothenburg has shown interest in the kit.
Mar 28, 2010
Salvator is to build the largest surround system in Sweden
Salvator, in cooperation with SLB Network, is to build and develop a surround-system suitable for the Swedish FIBUA facilities.
Together with NetCom, Salvator is to build and develop a surround-system suited for the Swedish FIBUA facilities.
Mar 28, 2010
Salvator will develop a new Wizsim
Salvator is to develop a new model of Wizsim, in cooperation with the Swedish Armed Forces and the Swedish Life Guards Regiment. The main innovation will be a wireless connection between the speakers and the Battle Controller Unit, and availability of battery-power. The main intended use will continue to be urban combat training. New options will be to use the Wizsim in forest or field environments where there is no mains electricity. The first version will be on the market in July 2010.